GREEN BEAN TOMATO GOAT CHEESE SALAD
Ingredients
1lb beans like mixed color or haricot vertes cleaned with ends/stems removed
1 pint cherry/grape tomatoes 
Goat cheese (herbed or plain)
Optional garnish fresh herbs (oregano, parsley or chives) or toasted slivered almonds!
Dressing
2TBS Olive oil
1-2 TBS finely sliced shallots
1/2 tsp Dry mustard
Salt & fresh ground pepper to taste

Directions
Boil salted water for cooking the beans. Have a colander and bowl of ice water at the ready.

Prepare dressing by adding olive oil to a large warm skillet. 

 

Soften shallots for 3-5 minutes- don't brown or crisp them. 

 

Add mustard, salt and pepper. Stir and remove from heat.

Cook beans 6-8 minutes or until crisp-tender; drain. Plunge beans into ice water to stop the cooking process; drain again.

Add cooked beans and tomatoes to the dressing and coat everything well!

 

 

 

Scrape every last bit into a serving bowl. 

 

Add fresh chunks of creamy goat cheese and toss gently! Garnish with fresh herbs or toasted almonds and serve!

BACON, POTATO, ROSEMARY, CHEESE PIZZA
Adapted from Food Network



Cook Time: 20-25 minutes
Ingredients

Fresh Pizza Dough
Preheat the oven to 450 degrees F. 
In a large mixing bowl, combine the fingerling potatoes, onion, bacon, and rosemary leaves. Add 1/4 cup of olive oil and season with salt and pepper, to taste. Toss together to coat with olive oil.
Take the preheated jelly roll pan out of the oven and drizzle some olive oil over entire surface. Cut the dough into 2 pieces and reserve 1 piece for another use. Stretch the pizza dough out so it is just bigger than the pan, then lay it inside the pan so the dough comes up the sides to form a crust on the rim.
Pour the potato mixture onto the pizza dough, then sprinkle with shredded fontina. Bake for 20 to 25 minutes until crispy and golden, about 20 to 25 minutes. Garnish with arugula and drizzle the lemon juice over the top. Serve immediately.
Fresh Pizza Dough:
In a small bowl, combine the yeast, sugar and water and stir gently to dissolve. Let the mixture stand until the yeast comes alive and starts to foam, 5 to 10 minutes.
If you're using a stand mixer, combine the salt and flour to the bowl and pulse a few times to mix. Add the yeast mixture, at the lowest speed, until the flour incorporates. When the dough starts to come together, increase the speed to medium and mix until the dough gathers into a ball. This should take about 2 minutes. Add the olive oil and pulse a few more times. Stop the machine periodically to scrape the dough off the hook. Get a feel for the dough as you're making it by squeezing a small amount together between your thumb and fingers. If it's crumbly, add more water, if it's sticky, add more flour, 1 tablespoon at a time. Turn the dough out onto a lightly floured surface and fold it over itself a few times, kneading until it's smooth and elastic.


ZUCCHINI BREAD
Adapted from All Recipes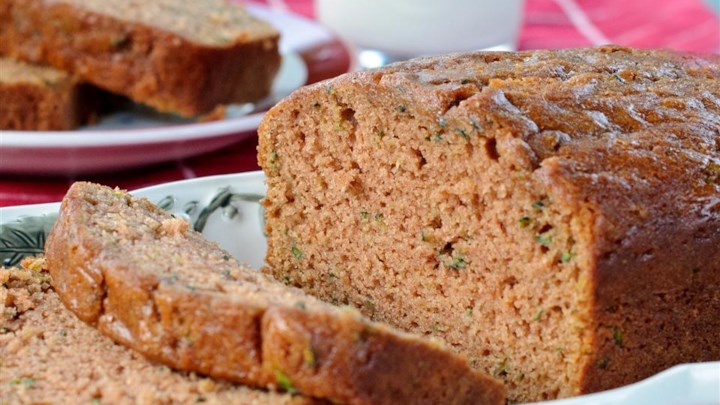 Cook Time: 40 – 60 minutes

Ingredients
3 cup flour
1 tsp salt
1 tsp baking soda
1 tsp baking powder
1 tbsp ground cinnamon

3 eggs
1 cup vegetable oil
2 1/4 cup white sugar
3 tsp vanilla extract
4 cup shredded zucchini
walnuts, chocolate chips or both

DIRECTIONS

Grease and flour two 8 x 4 inch pans. Preheat oven to 325 degrees F (165 degrees C)

Sift flour, salt, baking powder, soda, and cinnamon together in a bowl.

Beat eggs, oil, vanilla, and sugar together in a large bowl. Add sifted ingredients to the creamed mixture, and beat well. Stir in zucchini and chocolate chips or nuts until well combined. Pour batter into prepared pans.

Bake for 40 to 60 minutes, or until tester inserted in the center comes out clean. Cool in pan on rack for 20 minutes. Remove bread from pan, and completely cool.

RASPBERRY SALMON
Adapted from Food Network – Keri Glassman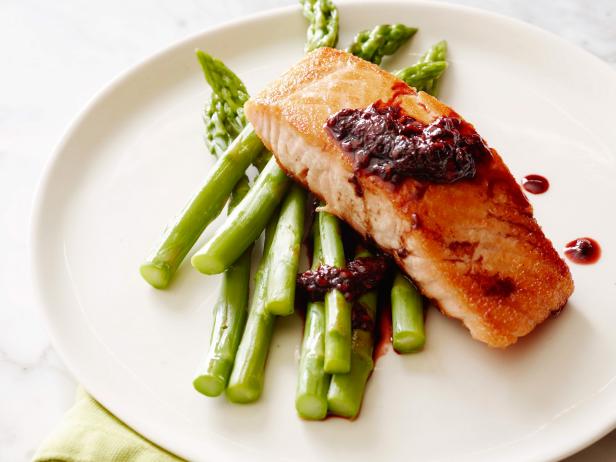 Cook Time: 15 minutes

Ingredients
Mash the raspberries and vinegar with a fork in a small bowl. Stir in the orange peel, orange juice, honey and wine until combined. Set aside. 
Coat a nonstick skillet with the cooking spray and place over medium heat. Cook the salmon until cooked through, about 4 minutes per side. Set aside. 
Remove the skillet from the heat and carefully wipe away any liquid with a paper towel. Return the skillet to medium heat and add the reserved raspberry mixture. Stirring constantly, cook until just thickened, about 2 minutes. 
Pour the sauce over the salmon and serve with asparagus on the side.

GRILLED MOROCCAN GROUND BEEF OR LAMB SKEWERS WITH YOGURT SAUCE

Prep time 15 minutes—Cook time 10 minutes
Adapted from Curtis Stone's What's for Dinner ©2013, Ballantine Books, NY
Yogurt Sauce
1/2 English cucumber halved lengthwise and seeded
1 cup plain yogurt (Harbor Home Farm)
2 TBS lemon juice
1 TBS fresh dill (Pacific Crest Farm or Near Season Farm)
salt and freshly ground black pepper
Beef or Lamb Skewers
Eight 12 inch braces of fresh Rosemary or Bamboo Skewers
2 lbs lean ground beef or ground lamb (Midlife Crisis or Pink Tractor Farm)
1/4c finely chopped cilantro (Near Season Farm, Pacific Crest Farm)
1 piece Extra-dry toast crumbled or 1/3 cup bread crumbs
1TBS finely chopped fresh flat-ear parsley (Forest Garden Farm, Near Season Farm, Pacific Crest Farm)
1 piece Extra-dry toast crumbled or 1/3 cup bread crumbs
3 cloves garlic finely chopped
2 TBS Zatar or Garlic Zatar spice (All things Rich)
2 tsp kosher salt
1.5 tsp freshly ground pepper
1 egg (Aeggy's, Pink Tractor, MidLife Crisis Farm)
1 TBS Olive oil (All Things Rich)


DIRECTIONS:

YOGURT SAUCE: 
Coarsely grate the peeled/seeded cuke into a small bowl.  
Hand Squeeze the grated cucumber to remove as much moisture as possible and dry between two paper towels or a clean dish towel.  
Mix the yogurt lemon juice, yogurt, and dill.  Season with salt and pepper to taste.
SKEWERS:
Heat grill to medium-high
Prepare skewers. If using rosemary branches, remove all the leaves except for the top 2 inches. Soak the skewers (bamboo or rosemary) in cold water until you are ready to use them.
Prepare the meat by combining herbs, spices, bread crumbs, and meat together by hand. Lightly beat the egg and add it to the mix. Divide the mix evenly into 8 portions.  Carefully mold each portion into a sausage shape along the skewer that is roughly 5" long, 1.5" in diameter.  Coat meat with olive oil to prevent it from sticking to the grill.
Grill the skewers, occasionally turning for 8-10 minutes.  Let rest for a few minutes and then serve with Yogurt sauce and greens of your choice! 

QUICHE




Today we at Vashon Fresh are breathing a sigh of relief.  It seemed so long ago that we began working on the concept and logistics of Vashon Fresh.  And now here we are – orders are starting to be made by customers and it feels good.  We are going to offer a weekly recipes where we will only try to use ingredients found on vashonfresh.com.  This weeks recipe combines products from many of our vendors.  We hope that you enjoy it.  Thank you to Samantha and Vashon Island Baking Company for the recipe!

When you are done with your quiche, enjoy some truffles from the Mighty Truffle!  Now you have everything that you need for a delicious, local, home cooked meal.  For libations don't forget to try Dragon's Head Cider, Vashon Brewing Beer, Palouse Winery, Nashi Orchards, Vashon Winery, Maury Island Winery, and Andrew Will Winery.  
Ingredients
4 eggs
(Aeggy's, Blue Moon Farm, Pink Tractor Farm, Limping Duck Farm)
1 c cream
spices, to taste (salt, pepper, nutmeg)
2 c greens
– Finely chopped chard, kale, or microgreens (Forest Garden Farm, Aeggy's,
Pacific Crest Farm, Limping Duck Farm)

Technique
1. Chop and fry bacon set aside to cool
2.  Lightly sauté the vegetables in olive oil (
All Things Rich
) or bacon grease.
3. Whisk the eggs.
4. Add the milk and cream.
5. Season with salt, pepper, and nutmeg.
6. Sprinkle the cheese on the bottom of the quiche shell.
7. Add the bacon and chopped scallions. Top with additional cheese.
8. Carefully pour in the egg mixture and bake at 300 degrees until the center of the
quiche is just set (it will still juggle when tapped), approximately 45 minutes – 1.5
hours (depends on the depth of your shell).
8. Cool to room temperature before cutting.